ChinaTibet2015

*** BY INVITATION ONLY ***

Trip to China & Tibet – Saturday, June 13, 2015 to Friday, June 26, 2015.

NOTE: This is a very rigorous trip that involves a significant amount of walking and climbing of steps. You must be in somewhat good shape.
Since 2004 I have been taking groups of friends on trips to China. Originally, I went with a US-based touring company but after I got to know the local Chinese guides I found out that I could do these trips much less expensively by working directly with local Chinese travel agencies. I enjoy taking these trips particularly because it is much more fun when you go with people you know and like. I enjoy helping introduce people to this amazing country. This is a hobby, not a business. I'm not a travel agent. People who come on these trips come by invitation only. If you can find similar trips at better prices please go with them. Please make sure you are not comparing apples and oranges. We stay in high quality hotels, not youth hostels or low budget places. All of the hotels have been checked out carefully by our local tour company. The buses or minivans that we travel in are all modern and air-conditioned. I especially like the fact that our tour guides will not permit us to shop in places where we will be taken advantage of by the shopkeepers. China is a very safe place and we have never experienced any problems at all. Please look over the itinerary. I'll be adding more details as they become available. This will be my seventh trip and the first to Tibet. The cost of this trip is higher because costs overall have risen but also because Tibet is a more expensive country to go to. Please note that almost all of the meals are included. Domestic airfare and transportation plus admission to all of the sites are included. The tour company is arranging for the visas to enter Tibet from China. Expenses will be detailed at the end of this page as they become available.
This tour is operated by:



赵振庄 (Tony Zhao)
国际旅游部经理
森林国际旅行社
China International Forest Travel
Rm202/205
No.12, Hepingli East Street
Dongcheng District
Beijing, China, 100013
Phone:
86-10-64664001
86-10-64281697
Cell: 86-13901311619
Fax: 86-10-64664005
Email:tony@splendiatravel.com
Website: http://www.foresttravel.net/


Check back as more details become available. [updated October 18, 2014)

13-June – Leave the US/Canada
14-June Beijing

Afternoon arrival at Beijing Airport (PEK). We will be met by driver and van who will take us to the Swiss Hotel. Dinner is provided. We have the evening free.
Swiss Hotel
No. 2 Chao Yang Men Bei Da Jie
Beijing 100027 ▪ China
Tel: +86 10 6553 2288
Fax: +86 10 6501 2501
beijing@swissotel.com
A five-star luxury hotel, Swissotel Beijing is ideally located in the Wangfujing shopping district. It offers easy access to Beijing Capital International Airport, Tian'an men Square, downtown, the China International Exhibition Centre and the railway station.
15-June Beijing

A buffet breakfast with both western style and Asian foods is provided for us. Our tour guide will take us via air-conditioned bus to visit the famous Tiananmen Square and the Forbidden City in the morning. In the afternoon we will visit the Summer Palace. Lunch is provided. For dinner we will experience the amazing Peking Duck Dinner.
Peking Duck has the reputation of being the most delicious food Beijing has to offer. Eating Peking Duck is seen to be one of the two things you are absolutely supposed to do while in Beijing. The other one is climbing the Great Wall.
Peking Roasted Duck is processed in several steps: first the ducks are rubbed with spices, salt and sugar, and then kept hung in the air for some time. Then the ducks are roasted in an oven, or hung over the fire till they become brown with rich grease perspiring outside and have a nice odor.
Peking Duck is always served in well-cut slices. The whole duck must be sliced into 120 pieces and every piece has to be perfect with the complete layers of the meat. Normally there are many dishes served with the duck, including a dish of fine-cut shallot bars, a dish of cucumber bars and finally a dish of paste-like soy of fermented wheat flour. Without these the dainty duck is surely in the shade.
The place that offers the best Peking Duck is the Quan Ju De Restaurant, which has outlets at Qianmen, Hepingmen and Wangfujing. It was established 130 years ago.
16-June Beijing
In the morning we will travel to see a less touristy section of the Great Wall of China. In the afternoon we will be treated by a pedi-can ride through the old Hutong section of the city plus a walking tour of Wangfujing. Breakfast and lunch is provided. Dinner is on our own and an opportunity to explore the Wangfujing shopping area.
17-June Beijing-Tibet
This morning we will have breakfast and then check out of the hotel. We fly from Beijing to Lhasa, Tibet (Gongga Airport). Upon arrival we check into the Four Points By Sheraton Lhasa Hotel.
Our hotel is located in the center of Lhasa city, 15 minutes away from the railway station and 60 minutes away from Gongga Airport. Known as the "Roof of the World', Lhasa is the capital of Tibet, and its political, economic, and cultural center. With a rich history spanning 1300 years, magnificent natural scenery and pleasant weather—earning it the nickname "Sunshine City"—the city offers visitors a veritable treasure trove of sites and experiences. Exploring local sites? You'll find a bevy of attractions within a ten minute walk from our front door. Jokhang Temple and Barkhor Street offer a great introduction to the country's long history and diverse cultures. Potala Palace is a magnificent structure where you can observe masses of devout pilgrims at worship. If you want to go shopping, the biggest supermarket in Lhasa—Baiyi—is just next to the Potala Palace. And don't miss Norbulingka, the imperial garden.
Lunch and dinner are provided. Because of the high altitude it is recommended that we rest that day to get adjusted.
18-June Tibet
In the morning we will visit the famous Potala Palace. Potala Palace is known as the highest palace in the world and one of the most famous architectural works in the world. Standing on the Red Hill of Lhasa, the Potala Palace is a treasure house of Tibetan history, religion, culture, and art. The palace, well worth visiting for its artistic value, historic purposes, and cultural awareness, has been regarded as the No. 1 must-see attraction in Tibet.
In the afternoon we will visit Jokhang Temple & Barkhor Street. Jokhang Temple ("House of the Lord") in Lhasa is the holiest site in Tibetan Buddhism, attracting crowds of prostrating Tibetan pilgrims and curious foreign tourists every year. It hosts the annual Great Prayer Festival, as well as all ceremonies of initiation for the Dalai Lama and Panchen Llamas. Located in the old area of Lhasa City, Tibet, Barkhor Street is a very ancient round street surrounding the Jokhang Temple and the Tibetan people are always proud of it. As a symbol of Lhasa, this street is also a must-see place for the tourists. Breaklfast, lunch and dinner are included.
* Dinner is a Tibetan Dinner & Show.
19-June Tibet
The morning consists of visiting Norbulingka (the summer palace for Dalai Lama). Norbulingka, meaning 'Treasure Park' in Tibetan, is situated in the western suburb of Lhasa City, at the bank of the Kyichu River, about one km (about 0.6 mile) southwest of Potala Palace. The garden covers an area of 360,000 square meters (about 430,000 square yards), with 374 rooms inside. It is the biggest man-made garden in Tibet Autonomous Region. In the afternoon we go to the Sera Monastery (famous for sutra debate). Located at the foot of Tatipu Hill in the northern suburb of Lhasa City, Sera Monastery is one of three famous monasteries in the city along with the Drepung Monasteryand the Ganden Monastery. It is dedicated to the Gelugpa or Yellow Hat Sect, a branch of Tibetan Buddhism, founded by Tsong Khapa. Jamchen Chojey, one of Tsong Khapa's disciples built it in 1419 during the Ming Dynasty (1368-1644). The monastery was named Sera which means wild rose in the Tibetan language, because the hill behind it was covered with wild roses in bloom when it was built.
The monastery is magnificent and covers an area of 114,946 square meters (28 acres). Its main buildings are the Coqen Hall, Zhacang (college) and Kamcun (dormitory). Scriptures written in gold powder, fine statues, scent cloth and unparalleled murals can be found in these halls. Colorful debates on Buddhist doctrines are held here and these employ a style distinctive from those at Lhasa's other famous monasteries.
​
20-June Tibet
We check out of the Four Points Sheraton and drive to Yamdrok Lake and the Karola Glacier.
Area: 9.4 square kilometers and growing.
Elevation: 5560 meters (18,241 feet)
About two hours away from Yamdrok Lake is Karola Glacier (Kharola, chángruòlābīngchuán卡若拉冰川 in Chinese). It isn't a big glacier, but the white glacier is spectacular from the highway, and it is close enough (about 300 yards) to walk to from the highway.
Touring the Glacier
The whole area is fantastic to see. The scenery between Yamdrok Lake and the glacier is truly spectacular. As you go around the lakeshore to stop in Nangartse, you'll see snow peaked mountains contrasted with blue sky and turquoise waters, yaks and Tibetans.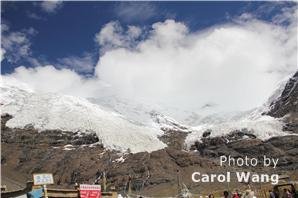 Past Nangartse on the way to Mt. Noijin Kangsang, you'll see high desert and high desert valleys. If possible take the opportunity to walk off the road into a valley.
Then you'll see the imposing glaciernear the top of the highway pass. You can see the various layers in the ice stack, and if the sun is shining, it is a brilliant white sight. By arrangement you can have a chance to climb up to it and even walk on it.
Tibetans pose for pictures for a fee (about 10 RMB or 1.50 USD) and sell products and souvenirs below the glacier along the highway.
Past the pass the scenery turns green again.
In the afternoon we have an optional trip to the Pelcho Monastery in Shigatse. That night we check into the Shigatse Hotel - 13 Jingdrel Road, Shigatse, Tibet.
21-June Tibet-Shanghai-SZ
In the morning we visit the Tashilunpo Monastery. The Tashilhunpo Monastery is situated at the west part of Shigatse City. Tashilhunpo Monastery is one of the Six Big Monasteries of Gelugpa (or Yellow Hat Sect) in Tibet. Also called the Heap of Glory, it is located at the foot of Drolmari (Tara's Mountain), Shigatse. Founded by the First Dailai Lama in 1447, the monastery's structure was expanded by the Fourth and successive Panchen Lamas. Covering an area of nearly 300,000 square meters (3,229,279 sq. ft.), the main structures found here are The Maitreya Chapel, The Panchen Lama's Palace and The Kelsang Temple. Tashilhunpo is the seat of the Panchen Lama since the Fourth Panchen Lama took charge in the monastery, and there are now nearly 800 lamas.
In the afternoon we drive Lhasa and check back into the Four Points By Sheraton Lhasa Hotel.
22-June Suzhou
There are only two flights out of Tibet to Shanghai daily. One is early in the morning and the other is late in the afternoon. We will take advantage of the early morning flight which leaves at about 8 o'clock and arrives around 1:15 pm. please note that all of China is on one time zone. We check out of the hotel and fly to Shanghai. Upon arrival our bus will take us to Suzhou where we will check into the Suzhou Marriott - 1296 Ganjiang Road West, Gusu District Suzhou 215004 China.
23-June Suzhou
We have a bike tour of the East Hill area ion the morning and then have a free afternoon touring Eastern Hill. Dinner is on our own. In Wuzhong District (吴中区) of Suzhou city, the East Hill has always been a place of flowing milk and honey. Because it is located very near of the famous Taihu Lake. Fertile field is green and vast, tea trees are juxtaposed on the hillside like stairs, fish ponds are dotted around and colorful ripe fruits are like a carpet paving on the slope. You can pick Chinese oranges when they are ripened and eat them. You may feel they are very sweet and juicy. In addition to the great natural scenery, many historical relics and humanistic attractions for you to see : Tower of Engraving Flowers (雕花楼), Xi's Family Garden (席家花园), Dai of Rain and Flower (雨花台), Dongshan State Guesthouse (东山宾馆) and Zijin Nunnery (紫金庵).

24-June Shanghai
We check out of the hotel and get ready to travel to Shanghai. In the morning we visit the Humble Administrator's Garden. The Humble Administrator's Garden (simplified Chinese: 拙政园; traditional Chinese: 拙政園; pinyin: Zhuōzhèng Yuán) is a renowned Chinese garden in Suzhou. The garden is located at n°178 Dongbei Street (东北街178号). At 51,950 m2, it is the largest garden in Suzhou and is considered by some to be the finest garden in all of southern China.[1] In 1997, Zhuozheng Yuan, along with other classical gardens of Suzhou was proclaimed a UNESCOWorld Heritage Site. Suzhou is where the creation of silk and silk fabrics occurred. We will visit an actual silk factory to see silk being made. We also visit the Master of the Nets Museum in Suzhou in the afternoon. From here we depart for Shanghai. We check into The Longemont Shanghai.
That night we see the amazing Portman Acrobat Show. I have seen this show twice and it is amazing.
Portman Acrobat Show, a production with strong Shanghai features, was presented by Shanghai Acrobat Troupe in 2005 at Shanghai Center Theater. The program consists of 3 parts- "Autumn Day", "Moon Reflection" and " Rosy Clouds"- showing the vicissitudes of Shanghai: "Grand Feast" and "Lovers at the Bund" tell the story of yesterday; "Juggler in the Bar" reflects the charm of today; "Hoop Diving" and "Magic Illusion" predict the development of tomorrow. Some acts such as "Play Dooly", "Silk Stripes" and "Pyramid of Chairs " are the "Gold Lion Award" winners at China National Acrobat Competitions.
25-June Shanghai
In the morning we visit the famous Bund and the popular Yu Garden. In the afternoon we take a bus tour of the Pudong area. That night is our last night in China. We have a farewell dinner planned.
26-June Shanghai
We will take our individual flights back home.
---
Costs:
The cost for one person (double occupancy) is $3,199.

The cost for one person (single occupancy) is $4,242.

Deadline to apply is 60 days before the tour starting date – April 13, 2015 (but good priced international tickets might need more time.)

Payments – $500 at application, balance to be paid upon arrival in China.

All payments are made to

China International Forest Travel.

Costs not included are international airfare and China Visa (approximately $200). For those wishing to leave from JFK we can use a New York travel agency which will have better prices than the posted $2,000 R/T.

This trip is by invitation only. If you wish to be considered, please send me an email – bill@billhowe.org. March 1, 2015 is the deadline to indicate interest. The trip fee is based on 15 paid travelers. Should that number not be reached by March 1, the trip will be cancelled. Do not send money or make travel arrangemenbts until notified. You will be required to fill out an application form.